If the broadcasting radio station has more than one transmitter in its reaching area then mobile radio listeners can listen to the radio without interruption by the usage of radio receivers auto frequency shifting feature with the support of RDS Alternative Frequency feature of the transmitter. This application can be used if the radio receivers enablis its AF suppoort.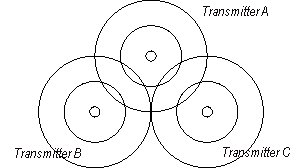 AF Sample – Radio's X Transmitters and Reaching Area Scheme
| | |
| --- | --- |
| Transmitter A | 88.8 MHz |
| Transmitter B | 90.2 MHz |
| Transmitter C | 103.4 MHz |
If Radio X Station broadcasts with RDS AF feature, and if AF feature of the radio receiver of the moving vehicle is enabled then listener can listen continuously to that radio station without the need to change the frequency. Radio receivers with RDS feature automatically choose the strongest signal of the radio station.
AF feature is the ideal system for the vehicles having long distance to go in order to listen uninterruptedly a radio station.
AF A method transmitted by OA RDS group can define 25 frequency transmitters of the same radio station.
AF B method can be applied if the number of frequency transmitters exceeds 25 or regional grouping is needed.